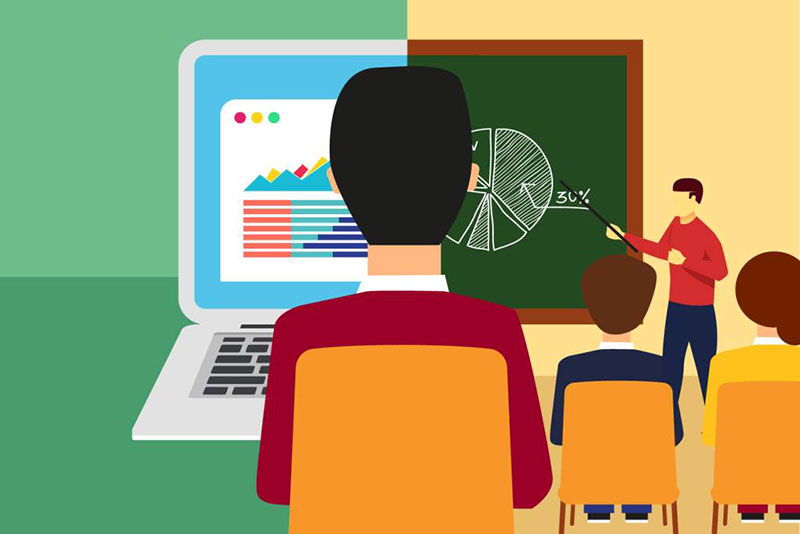 Much has been written about the importance of virtual learning and blended learning in the last year. The COVID-19 pandemic forced the hand of many training providers and organizations who had previously been avoiding the transition to fully virtual learning or blended learning. With empty classrooms and all but a few employees working from home over the last eighteen months, face-to-face was no longer an option.
At Dion Leadership, our blended learning offerings combine self-paced work accessed via the Dion Leadership Learning Platform with instructor-led group sessions. Before, between, and after these sessions, participants complete a range of self-paced assignments that complete their learning experience The Dion Leadership Learning Platform:
Provides a roadmap for your training program

Alerts you to work that needs to be completed prior to training such as:

Self-paced assignments

homework

post-session challenges

Houses the materials (participant guides, handouts, individual assessment results) you will need and reference for each live training session
We have also seen the power of simulation-based learning experiences for both leaders and teams. Our business simulations feature a proven structured learning process based on best practices in experiential learning, team dynamics, social learning, and game-based education.
Designed to be used for a targeted, stand-alone training session or integrated into your virtual and blended learning courses, participants will learn critical concepts, build team camaraderie, and engage in their personal development. All this, while having a bit of fun!
Business simulations are more effective than case studies. They work best when utilizing real-time data and the skills of a seasoned facilitator. Gamification engages learners to learn and retain more information, leading to more lasting behavior change.
Today's technology offers an array of features to build interaction and camaraderie as a learning community. Virtual training:
Provides a rich learning environment with whiteboards, interactive polling, video, and breakout rooms help learners process and apply the learning

Supports shorter learning events that allow learners time to practice, apply, reflect, and reinforce

Replicates real-life work virtual interactions

Breaks down barriers for learners to share and thoughtfully contribute

Reduces travel time and cost
The ideal class size for facilitator-led virtual learning is 6 to 16 participants. We can also run webinar format sessions for large audiences.
Our virtual training facilitators bring an engaging style and approach which connects with each learner in a meaningful way. As a result, learners report not only high satisfaction and engagement with our virtual learning options but high levels of learnings and application.
The work we do to build stronger, well-prepared leaders, teams, and managers is more important than ever. As we face this worldwide health crisis and its financial implications, and as our businesses recover from the massive disruption, our employees will need these vital skills. Could this crisis be the impetus for acceptance and innovation? Might we view this as an opportunity to take some chances or try some experiments with virtual training for soft skills?
Virtual learning and blended learning works. We encourage you to shift your thinking from virtual training serving as a second-rate solution and give it a try. Training professionals no longer have the luxury to offer face-to-face learning as the only option. It's time to explore some enhanced benefits that don't come with face-to-face learning.